I found this link
https://steemit.com/dakini5d/@dakini5d/slumlord-valerie-jarrett-makes-multi-millions-in-classist-racist-hud-scams-trump-signs-right-to-try-storm
doing research on my case. I never thought to look at the image in
reverse. IMO, it validates my likeness even more.
I believe this is taken from Humans are Free awesome media work.
The
likeness with the screen shot taken from my David Knight interview in
May of 2018, is fairly obvious. As I have said since the beginning. I
want to get tested to confirm all these allegations.
I may be
quiet on the posts right now, but that is because I am building a new
media site along with putting my photo biz on a new track. All that
takes time and work. I am only one person.
I have one strong
supporter, the rest I have to rely on myself. I will not dive into the
on line media biz without a strong business presence. Like any careful
business person, I have to make sure my foundation is strong, with or
without your help.
This is the store I have right now. https://ellenatkin.printscapes.com/
There are about 40 more steps before I can launch the whole thing.
Another
target (high target) from the States has helped me set up a secure
computer system and I am working with a web designer.
Don't lose sight of the Ultra GRRL goal. And don't be fooled by the petty jealousy of others who would like to derail me.
I
know what I am doing. I knew this would happen. Please be patient and
work with me and others who are doing the same work with the same goal.
FYI,
being Ultra GRRL changes nothing about my ability to do business.
People are people. Cast your presumptions aside. I did the workarounds
so I could be here now.
I would highly recommend others attempt to diligently execute their own creative self employment.
Although
IMO, these agencies owe me a world full of money and time and well
being, I can hold me own despite that. Yes it does feel like holding the
helm against a raging storm, but what else is new? Life is for the
living.
Ellen Atkin as a child in the 1950's in Montreal Canada, being electrocuted and experimented upon in the MKUltra Project: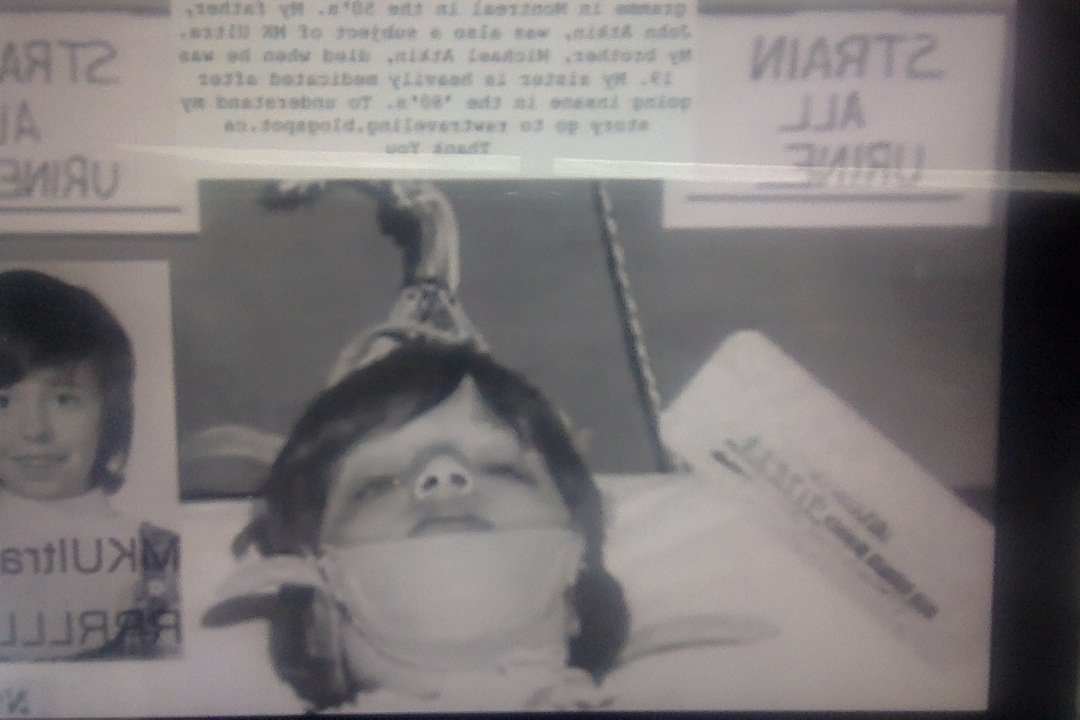 Ellen Atkin today in her appearance on The Real News with David Knight: